Welcome to Trail Rock Ordnance! Established in 2007, our company provides a wide assortment of military replicas that are well suited for Civil and Revolutionary War Reenactments and period related educational programs of that era, providing an authentic feel of historical events for both participants and observers during a display of living history. Among other items our company takes pride in offering Civil War Cannons, Mountain and King Howitzers, Parrott Rifles and 6 pder guns, based on authentic details of items that survived. Extensive research goes into making accurate replicas of Limbers as well as Field Carriages, Prairie Carriages, Cannon Carriages, Naval Carriages, Funeral Caissons, and Revolutionary War Carriages, along with essential carriage hardware of the times. Our products also include civil war and revolutionary war artillery, ammunition, artillery reproductions, and mortars, our Sabots are crafted from Bass Wood and carefully laminated.
For centuries, fallen heroes have been respectfully escorted from the battlefield to graveside by horse drawn caissons, Trail Rock Ordnance is able to honor your fallen hero, with that same dignity and grace afforded past Presidents and Generals the likes of Lincoln, Kennedy, and Reagan by providing horse drawn funeral caissons. Trail Rock Ordnance is able to provide this service, for additional information contact us.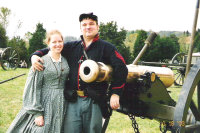 My wife and I beside "Elijah" at the 2003 Civil War reenactment Battle of Blue Springs, TN.
Elijah is a 3" CS Bronze Rifle originally crafted by Tredegar Iron Works.